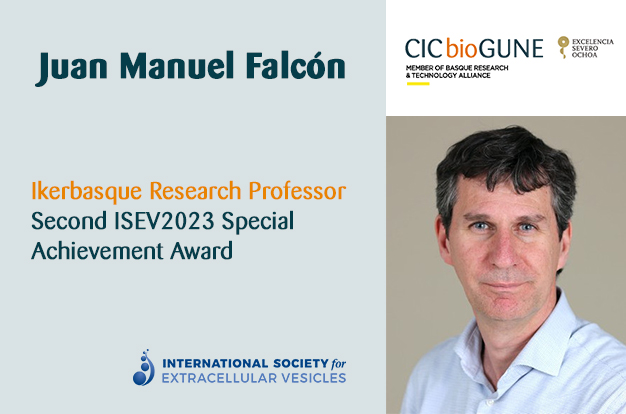 This Award recognizes scientific contributions and/or extraordinary service to ISEV
Dr Falcón Perez is member of ISEV since 2012. He has been Chair of annual ISEV meeting in Barcelona 2018 and member of IOC of Rotterdam 2016 and Japan 2019, ISEV annual meetings.
Dr Falcón Pérez was Board member since 2016 starting in the Educational Committee with contributions to the elaboration of several ISEV educational material including elaboration of surveys, posters, guidelines and SOPs.
He participated in the creation and is currently co-chair of the Rigor and Standardization committee. He also participated in the foundation and is currently deputy editor of the Journal of Extracellular Biology.
Since 2005 Juan Manuel Falcón Pérez has made seminal contributions and participations in different areas of EVs including method comparisons (for proteins, RNAs and metabolites), method development (EV labelling and single-vesicle analysis), also biomarker discovery and therapeutics focused in structural, molecular ( applying many omics technologies) and functional analysis by studying biodistribution, glycosylation and EV engineering. Applications of EVs in a broad range of experimental models including several cellular systems (mouse, rat, flies, human) and body fluids such as urine, blood, cerebrospinal fluid, ascites, BALF, endometrial fluid in various biomedical areas including cancer (prostate, bladder, breast, pancreatic, CCR, HCC), metabolic, neurodegenerative and infectious diseases.
CONGRATS and many thanks to your contributions to GEIVEX as well.